2014 BMW X1 Driving Impressions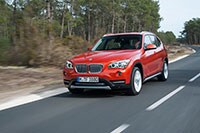 The BMW X1 may not be quite as nimble as a BMW 1 Series sedan, but the distinction would be hard to quantify without instrumented test equipment. Besides, it's hard to imagine anyone being disappointed with this vehicle's dynamics. The standard suspension keeps body motions reasonably well snubbed by crossover standards, and the X1 responds eagerly to abrupt changes in direction. This is one of those rare crossover SUVs that would exhibit respectable performance on an autocross course.
Like other BMWs, the X1 achieves its eager responses without punishing occupants. Ride quality is Euro firm, but beautifully damped, taking the hard edge off all but the gnarliest of pavement irregularities. As with almost all new vehicles lately, the X1 has electric rack-and-pinion power steering. Though not quite as surgically precise as the former hydraulically assisted system,it's better than most of the other electric-assist systems.
The interior is quiet at all speeds, including driving on rough roads, and the turbocharged engine delivers surprisingly brisk acceleration for its output and the X1's mass. Contemporary road tests have recorded 0-to-60 mph times of 6.2 seconds, vindicating BMW's forecasts.
The BMW X1 offers a choice of engines: The turbocharged and intercooled DOHC 16-valve 2.0-liter direct fuel injection four-cylinder produces 241 horsepower and 258 pound-feet of torque. The turbocharged and intercooled DOHC 24-valve, 3.0-liter V6, with direct fuel injection, is rated at 300 horsepower and 300 pound-feet of torque.
There are a few small demerits. For one, the 8-speed automatic that comes on the 2.8-liter models, while all but seamless in routine operation, is irritating when the driver first starts up and wants to engage reverse, which winds up being a two-step operation: The shifter automatically goes to Drive, and the driver must then nudge it into reverse. Also, while the automatic is billed as having a manual function, it's not really effective. Fortunately, the full-auto mode is so smooth and responsive that this isn't a major drawback, even for an enthusiastic driver.
The X1 is also equipped with a stop/start feature, shutting the engine down instead of idling at stoplights, a fuel economy measure that pays dividends in urban traffic. However, the BMW system produces an intrusive shudder when it refires the engine, and this is something the owner will probably never be able to completely ignore.
Another complaint is braking. The system is powerful, but the tires make braking distances unacceptably long. Optional 18-inch wheels and tires may help, but another choice would help more.
Still, the X1 delivers on BMW's driving machine promise. If fun-to-drive is a priority, the X1 stands almost alone at the head of the small crossover class.