2011 BMW M3 Introduction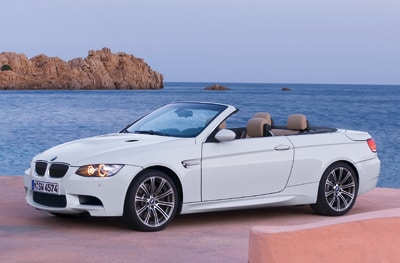 The BMW M3 is the defining performance car in BMW's sporty 3 Series line, and possibly the purest in BMW's inventory. A product of BMW's M division, the in-house skunk works responsible for the company's racing programs, the M3 offers features performance in a practical package. Using a small displacement V8, the M3 features a high-strung, high-revving engine that provides amazing power for its size.
Available in sedan, coupe and convertible versions, the M3s are quicker, faster and flashier than any regular 3 Series model.
While all the other 3 Series cars use six-cylinder engines, the M3 features a hand-built, high-tech 4.0-liter V8 that delivers 414 horsepower. An M3 can accelerate from 0 to 60 mph in as little as 4.7 seconds, with top speed electronically limited to 155 mph. Those figures meet or beat numbers generated by a lot of pure-bred exotic sports cars.
The M3s come with a 6-speed manual transmission or BMW's M Double Clutch 7-speed gearbox, which works like a conventional automatic in most situations but can be shifted manually and very aggressively.
The M3s steer and handle like sports cars. Like all 3 Series models, they pack a tremendous amount of electronic wallop: advanced Dynamic Stability Control, optional electronic damper control for the shock absorber settings, different power steering and throttle control modes, and an optional feature call M Drive that allows a driver to tailor the electronic settings to personal taste.
The M3s are more practical than most exotic sports cars. They're easier to get in and out of, and to see out of. All have a well-finished back seat that's comfortable for average-size adults. All have decent trunk space, and can be equipped with the full menu of luxury amenities. They're easy to park in crowded city centers, and easy to drive casually in nearly all circumstances.
For 2011, BMW M3 is available with a Competition Package for the sedan and coupe, which lowers the suspension by 0.4 inches and adds 19-inch wheels offset to widen the track (the distance, side-to-side, between the centers of the tires). The Competition Package includes Electronic Damping Control and Dynamic Stability Control with unique programming. The name of the package says it all: This one is for folks who plan to unleash the M3's full prowess on a race track. There are no other significant changes for 2011. The current-generation M3 was launched as a 2008 model.
To be sure, the least expensive M3 costs substantially more than other cars in the 3 Series line. It will appeal most to hard-core enthusiast drivers. It may not be worth the price premium to drivers who find the 335i or 335is just as fun and satisfying to drive.