2011 BMW 1 Series Introduction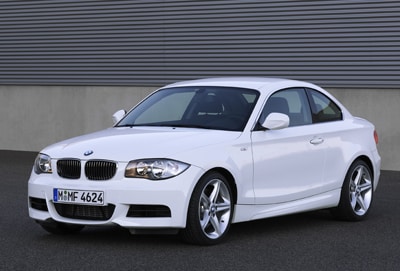 The BMW 1 Series was designed to deliver the sporty dynamics of rear-wheel drive, agile handling, powerful engines and seating for four, all those attributes we've come to expect from the Bavarian automaker, in a smaller, less costly package than its other models. Inspiration for the 1 Series came from the BMW 2002 of some 40 years ago (1968-76).
The 2011 BMW 1 Series comes in Coupe and Convertible models in two versions: the BMW 128i and the BMW 135i.
The 2011 BMW 135i benefits from an all-new inline-6 engine, here using a single turbocharger to produce 300 horsepower, and paired with the sporty 7-speed Dual Clutch Transmission from the Z4 Roadster. (Code-named N55, the 2011 engine replaces last year's 300-hp twin-turbo inline-6.) The 2011 BMW 135i is also available with a 6-speed manual gearbox, which we found silky smooth and a pleasure to operate. Fuel economy from the 135i even edges that of the 128i, with an EPA-estimated 20/28 mpg City/Highway for a 2011 135i Coupe.
The 2011 BMW 128i Coupe and Convertible continue to be powered by the normally aspirated 3.0-liter inline-6 that generates 230 hp and 200 lb-ft of torque. They're available with 6-speed manual or 6-speed Steptronic automatic.
An M Sport Package adds a sports suspension that favors handling over ride quality.
The BMW 1 Series is nearly seven inches shorter overall than the 3 Series. The 1 Series wheelbase is four inches shorter than that of the 3 Series, and it's a significant 2.7 inches narrower in width. The 1 Series brings BMW's highly developed rear-wheel-drive platform to compete with cars in the entry luxury coupe class that mostly use front-wheel drive.
In many ways, the 1 Series is nothing more or less than a scaled-down version of the 3 Series, with similar looks, similar equipment and similar performance and handling. Indeed, it uses many of the same components and systems. The 135i is a smaller, lighter package with the same engine as the 3 Series for a lot less money. The BMW 1 Series was launched in the U.S. as a 2008 model, initially only as a coupe.
We like these cars. They're comfortable, sitting in one is like sitting in a 3 Series. Underway, they are sporty and agile, driver's cars, with the feel of rear-wheel drive. We found a 128i Convertible is a delight and it has enough power. Most fun to drive is a 135i Coupe, though we recommend against the M suspension due to the hard ride. The new single-turbocharged engine turns the 135i into a little hot rod, and it seems to have a bit more torque lower down, where we use most of it in everyday driving.