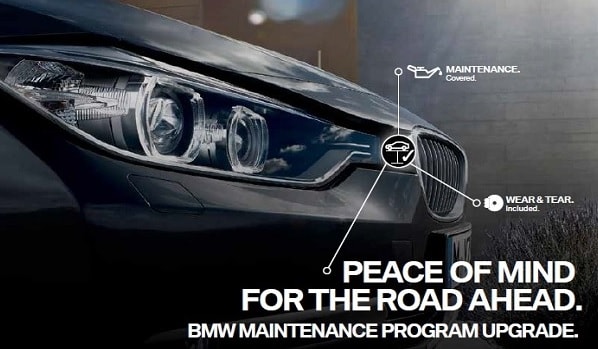 The BMW Maintenance Program
Owning a BMW should be a great experience for years to come-and keeping it in top condition makes it possible. That's why BMW offers the industry-leading BMW Maintenance Program Upgrade when your vehicle no longer qualifies for no-cost maintenance.
Save 30%* on scheduled maintenance

Includes wear-and-tear replacement for key items like brake pads and wiper blades-a BMW exclusive
All done by BMW Trained Technicians
Includes Roadside Assistance
You can choose from two convenient options to extend your coverage:
1-Year/25,000 miles or 2-Years/50,000 miles or 3-Years/75,000 miles.It's the best way to ensure your BMW remains The Ultimate Driving Machine. Prior model years through 2014 may still be eligible for Maintenance plan upgrades.


For model year 2015 or 2016 BMW vehicles sold or leased on or after July 1,2014, the BMW Maintenance Program is provided for the first 4 years or 50,000 miles whichever comes first. This is a benefit of the first registered owner only. (A maintenance refresh policy must be purchased for coverage to transfer to the 2nd owner.

All model year 2017 BMW vehicles and newer sold or leased come with BMW Ultimate Care standard for the first 3 years or 36,000 miles whichever comes first.
*Saving estimated compared to paying for each maintenance visit individually. Your savings may vary.
NON-TRANSFERABILITY

These maintenance programs are available to the exclusive benefit of the initial purchaser, owner, or lessee of a new vehicle, sales demonstrator vehicles. Coverage is not transferable to subsequent purchasers, owners, or lessees. The sole exception to the non-transferability of coverage is that household transfers-transfers within the United States (including Puerto Rico) to members of the household of the initial purchaser, owner, or lessee of a BMW vehicle from an authorized BMW center-will not terminate coverage. Household transfers are limited solely to transfers to a current or former spouse or spousal equivalent, child, sibling, parent, grandparent, or grandchild from the initial purchaser, owner, or lessee of a vehicle. In the event of a household transfer, purchasers, owners, or lessees of a BMW vehicle should promptly advise their authorized BMW center to document and confirm the household transfer for purposes of coverage. The payoff of a loan on a vehicle by the initial purchaser and the purchase of a leased vehicle by the initial lessee are not considered transfers for purposes of coverage.
Make an Inquiry
Sales Agent Hours
Monday

9am to 8pm

Tuesday

9am to 8pm

Wednesday

9am to 8pm

Thursday

9am to 8pm

Friday

9am to 8pm

Saturday

9am to 6pm

Sunday

12pm to 6pm